Client's Problem Statement
Being a mammoth organization, the Jubilant Bhartia Group wished to step into the digital space with 18 individual websites for its different ventures. The Group had very specific objectives while searching for a reliable digital media company to carry out its ambitious task. It wanted all designing and development tasks to be brought together and performed under a single umbrella within one Server/Database.
The maintenance of brand consistency was one of the most significant prerequisites they wanted across all the websites. They also wanted each project to be completed within the predetermined timeframe with 'visibly' fast-paced development. The Group's digital team was also very particular about the mobile-related aspects of each website.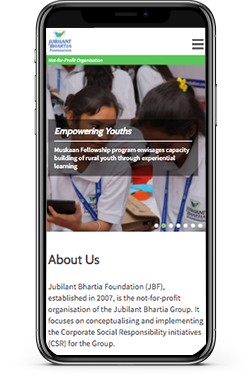 Solutions Given
When approached to carry out the large number of complex web projects by the Jubilant Bhartia Group, Sterco Digitex, as India's leading digital media company, proved its mettle by delivering all 18 websites well within the predetermined timelines. Leveraging its experience and expertise of over two decades, Sterco Digitex equipped each website with techno-rich, yet user-friendly features.
Since it was a colossal project involving 18 full-scale websites, different teams of designers and developers were working simultaneously under the supervision of dedicated project managers. The maintenance of uniformity across digital interfaces was a challenging task.
Rising to the challenge, the design of each website was executed with perfect synchronization by all the teams. Features such as page headers, CTA buttons, navigation menus, content copy, and more were taken well-executed. The teams' cohesion was outstanding in achieving a perfect balance and harmony between the elements of web pages including text, images, and videos across all websites.
Throughout the development phases, one single CMS was used for all websites with ASP.NET/MSSQL as the technology platform. To provide each website with better manageability, an effective and efficient User Management Section was also added. Sterco's development team took particular care to ensure that each of the websites had cross-device and cross-browser compatibility/friendliness. Currently, the maintenance of all 18 websites is also being carried out under the able supervision of Sterco Digitex.