The company currently has a national network that consists of a National Reference Laboratory in New Delhi along with 190+ other clinical/medical laboratories, 1700+ lab patient service centers, 6,000+ pickup points and 1000+ field executives. The reach of the company spans across India, including metropolitan areas such as New Delhi, Mumbai, Bengaluru, Chennai, Hyderabad, and Kolkata. It is also the first Indian laboratory to be accredited by the NABL.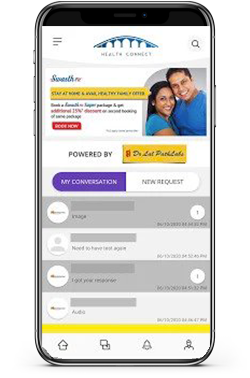 Client's Problem Statement
Digital laboratory information system has completely transformed the way workflow is handled by simplifying all the tedious processes that were earlier very complicated to manage. When Dr. Lal PathLabs digital team approached Sterco Digitex, they came with the requirement for an effective and efficient mobile application through which they could manage a systematic allocation of resources, appropriate alignment of staff, and pipelining of data. Complete automation of the lab's operations was required for diverse organizational benefits.
Their requirements included a platform where Doctors (Consultants) could interact directly with the Head of Department (Diagnostic Test), easier and quicker access to reports and data without any validation, data security for all lab reports with accessibility only to the designated individual(s), seamless and real-time messaging between Doctors and HODs, voice messaging and file sharing, efficient feedback management, and reachable to doctors across the country.
Solutions Given
The Development team at Sterco Digitex was quick to understood the specific requirements of the client and delivered highly sophisticated, feature-rich, and user-friendly mobile applications for both iOS and Android platforms, well within the predetermined timeframe.
Technically versatile across all functional parameters, the apps are capable of handling diverse aspects such as communications and consulting, administration, health record maintenance and access, and reference and data gathering. Other technical and functional attributes featured in the apps include .NET core/MSSQL-based backend application supported by REST API, multiple integrations with Internal ERP, Lab Database, Report Database, Patient Database, and HOD Database. The apps also provide a clean and user-friendly mobile experience, with Validation of User and report through OTP verification, AWS Server and File Management, and vertical scaling of the server.