An alumna of a premier business school in Delhi, Ms. Agarwal pursued her passion for fashion for children and forayed into the online luxury space having conceived the idea to launch an e-boutique, exclusively for children, after failing to find fine clothes for her toddler.
Client's Problem Statement
LittleTags Luxury approached Sterco Digitex for an e-commerce website with high-end design and feature-rich functionalities. Some of the major points of the project brief included an ultra-smooth shopping experience for users, display of the products of a wide range of designers in their respective categories and age groups, integration of all types of e-commerce marketing tools such as refund and credit notes, protection from cyber threats, and visibility in Google search rankings. Overall, the client required a feature-packed e-commerce website that facilitated more conversions, encouraged repeat customers, and increased sales.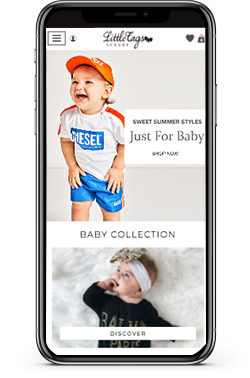 Solutions Given
As one of India's leading digital media companies, Sterco Digitex is well-established in the e-commerce development space, having successfully delivered numerous e-commerce projects. The designers and developers at Sterco took up the challenge and delivered a versatile and highly sophisticated that exceeded the client's expectations.
The team took care of all aspects that a successful e-commerce website relies on key aspects such as a hassle-free shopping experience, complete mobile-friendliness, integration of all the required marketing extensions and custom-designed themes with Magento 2, multiple payment options, the ability to scale and add new features, easy-to-use checkout options, and Firewall-protected hosting. The SEO layout of the website was created in such a way that it started appearing higher on Google India SERPs for all major keywords within the first month of the launch.